Episodes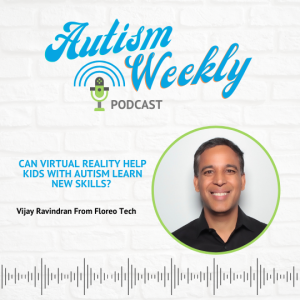 Friday Mar 12, 2021
Friday Mar 12, 2021
This week we welcome Vijay Ravindran to the podcast. Vijay is the CEO of Floreo, a virtual reality company specializing in developing software to help children with Autism Learn.  He is also a parent of a child with Autism and has day-to-day first-hand experience helping his own child learn new skills. Download the podcast today to learn more about this exciting new technology! 
Learn More About Floreo: https://floreotech.com/
. . . . . . . . . . . . . . . . . . . . . . 
Autism weekly is now found on all of the major listening apps including apple podcasts, google podcasts, stitcher, Spotify, amazon music, and more. Subscribe to be notified when we post a new podcast. 
Autism weekly is produced by ABS. ABS is proud to provide diagnostic assessments and ABA therapy to children with developmental delays like Autism Spectrum Disorder. You can learn more about ABS and the Autism Weekly podcast by visiting abskids.com.