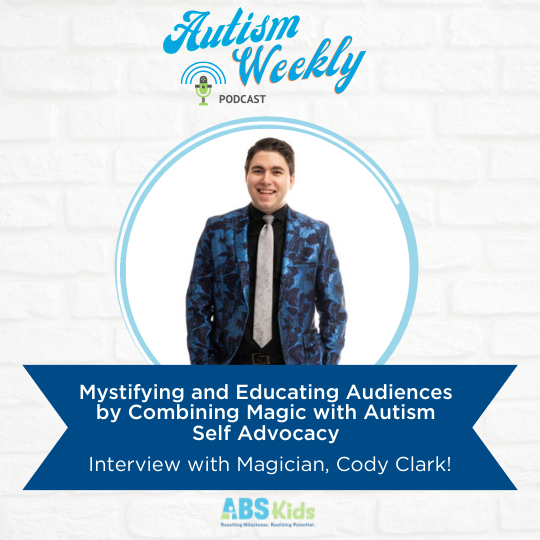 This week we welcome professional magician, Cody Clark, to the podcast to talk about how he mystifies and educates audiences with his magic and autism self-advocacy.  He combines magic with comedy and storytelling to give a first-person perspective on what living with autism is like. He hosts a show titled "A different way of thinking" and performs across the country. Download the podcast and listen today to learn more! 
Check Out Cody's Magic Shows! CLICK HERE
Learn more about Cody Clark's magic act and his transition program to early adulthood: CLICK HERE
Contact Cody Clark: info@codyclarkmagic.com
. . . . . . . . . . . . . . . . . . . . . .
Autism weekly is now found on all of the major listening apps including apple podcasts, google podcasts, stitcher, Spotify, amazon music, and more. Subscribe to be notified when we post a new podcast.
Autism weekly is produced by ABS. ABS is proud to provide diagnostic assessments and ABA therapy to children with developmental delays like Autism Spectrum Disorder. You can learn more about ABS and the Autism Weekly podcast by visiting abskids.com.